Inverter Generators Installed
The Best Generators For Power Backup
Install a generator through Full Power Electrical, complete with a changeover switch in your switchboard. With this setup, restoring power during outages is as easy as flipping the changeover switch and turning on the generator.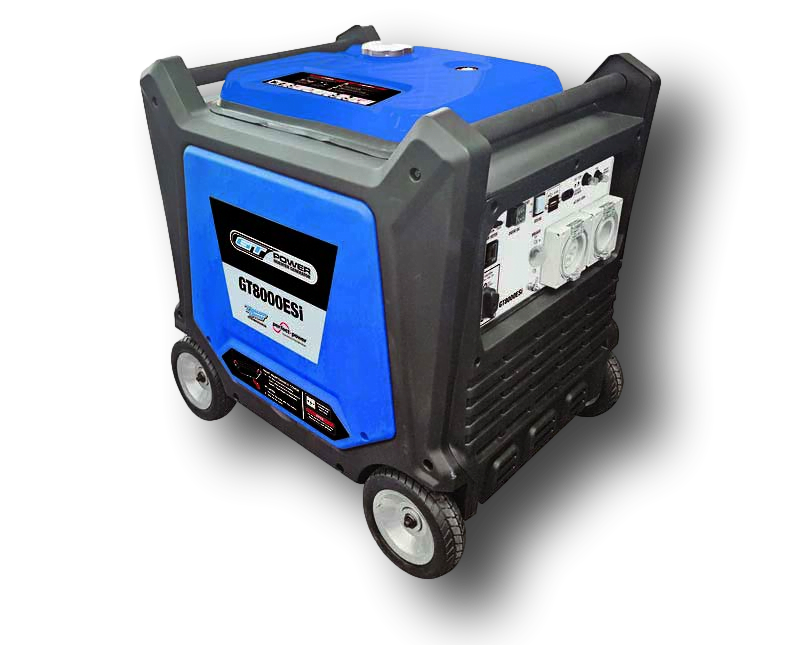 why you should consider getting a generator installed by our expert team:
Expertise and Experience: Full Power Electrical brings a wealth of expertise and experience in generator installation. Our team is well-versed in handling various generator types and sizes, ensuring a seamless and effective installation process.

Tailored Solutions: We understand that every property has unique power requirements. Our solutions are customized to meet your specific needs, taking into account factors like property size, power consumption, and the critical systems you want to keep running during outages.

High-Quality Generators: We source and install high-quality generators from reputable manufacturers, guaranteeing reliability and performance when you need it most.

Full Changeover Switch Integration: Our installations include the integration of a full changeover switch in your switchboard. This ensures a smooth and swift transition to generator power during outages, minimizing disruption to your property.

Seamless Power Restoration: With a generator installed by Full Power Electrical, power restoration becomes a simple process. Just flip the changeover switch and start the generator to quickly restore power to your property.

Emergency Preparedness: A generator is a valuable addition for emergency preparedness. It ensures that essential systems like lighting, heating, and critical appliances continue to function during power outages, enhancing your safety and comfort.

Peace of Mind: Knowing that you have a reliable backup power source in place provides peace of mind. You can trust Full Power Electrical to deliver dependable solutions that keep you connected and secure, even in adverse conditions.

Local Service: We are a local provider, which means quick response times and personalized service. We understand the unique power challenges that New Zealand properties face and are dedicated to addressing them effectively.

Ongoing Support: Our commitment doesn't end with installation. Full Power Electrical offers ongoing support, maintenance, and servicing to keep your generator in optimal condition, so it's always ready to perform when needed.
Our Range Of Inverter Generators

GT8000ESi  
This revolutionary, super compact and powerful electric start inverter machines are designed and configured especially for NZ requirements in the construction and engineering markets. The requirements for perfect sine wave inverter power is increasing year on year, and these new machines allow you to lead the market both in value and performance.
FEATURES
•  8,000W/8kW max, 7,000W/7kW continuous/rated output
•  2 Wire Auto Start/Stop Module Fitted
•  Electric start
•  Multiple power options with 2x 230V (15A & 32A), 1x 12V DC and USB outlets
•  26L fuel tank for up to 7hrs run-time
•  Highly portable with 4-wheels and convenient carry handles
• 4 Year Domestic / 2 Year Commercial Warranty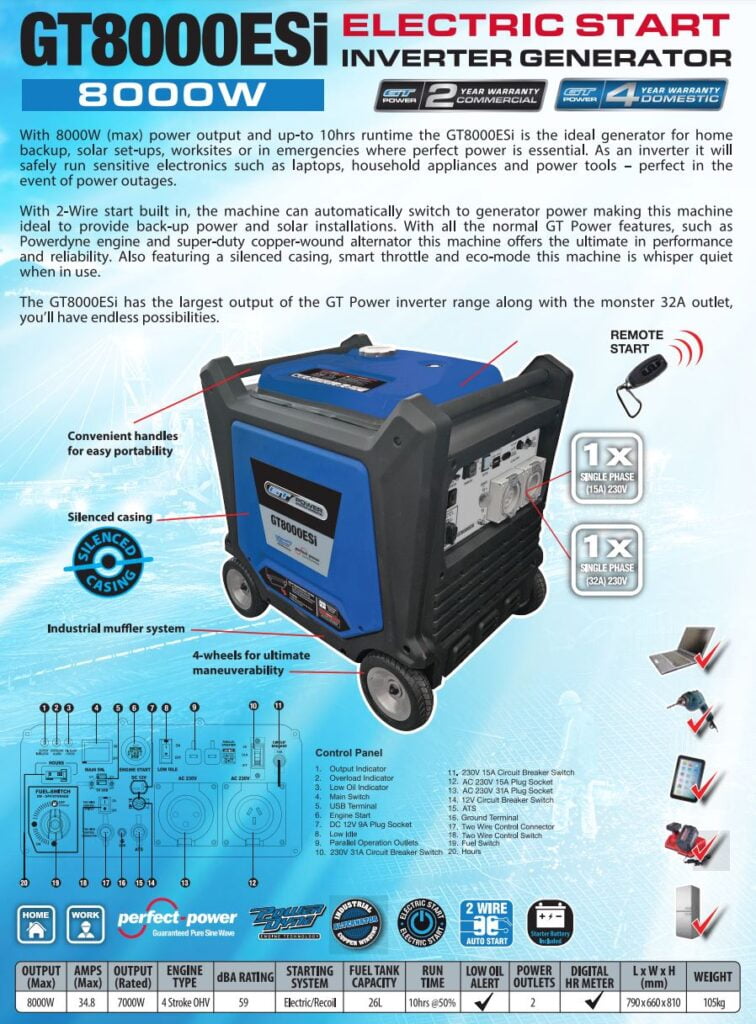 T6000ESi
$ 3,295 + GST
6000W Electric Start Inverter Generator
Powerful, yet compact, the GT6000ESi is your go-to for back-up power and solar integration.
6000W (max, 5500W (rated)
 Electronic ignition system & push button electric start
 Two-Wire Start (perfect for solar integration)
 Reliable Powerdyne 4-stroke OHV engine
 Large 13.5L Fuel tank to keep you continuous operation
 Internal frame & anti-vibration engine mounts ensures longevity
 Large capacity muffler and silenced casing for super quiet operation
 Heavy duty wheel set & compact for easy transportation
 Thermal overload circuit breakers for increased safety while operating
 High performance air cleaner system for improved performance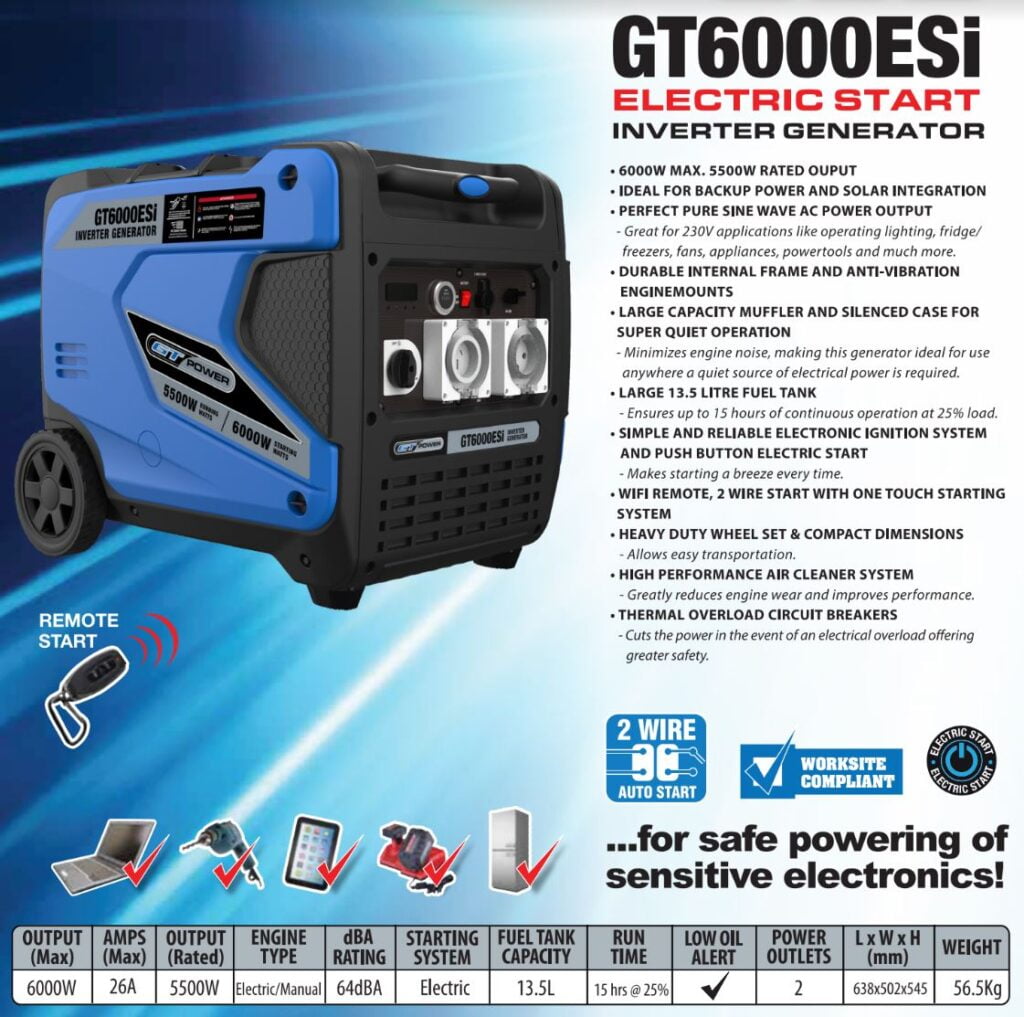 GT4000ESi
4000W Push Button Start Silenced Inverter Generator
Compact yet sturdy, the GT4000ESi is designed with portability in mind. The silenced casing and unique GT Power features combine to create a versatile machine which can be used in a variety of applications.
4000W (max), 3500W (rated)
Push button start with remote starting
Two-wire start perfect for solar integration
Reliable Powerdyne 4-stroke OHV engine
High performance air cleaner system for improved performance
Large capacity muffler and silenced casing for super quiet operation
Thermal overload circuit breakers for increased safety while operating
Heavy duty wheel set and handle for improved portability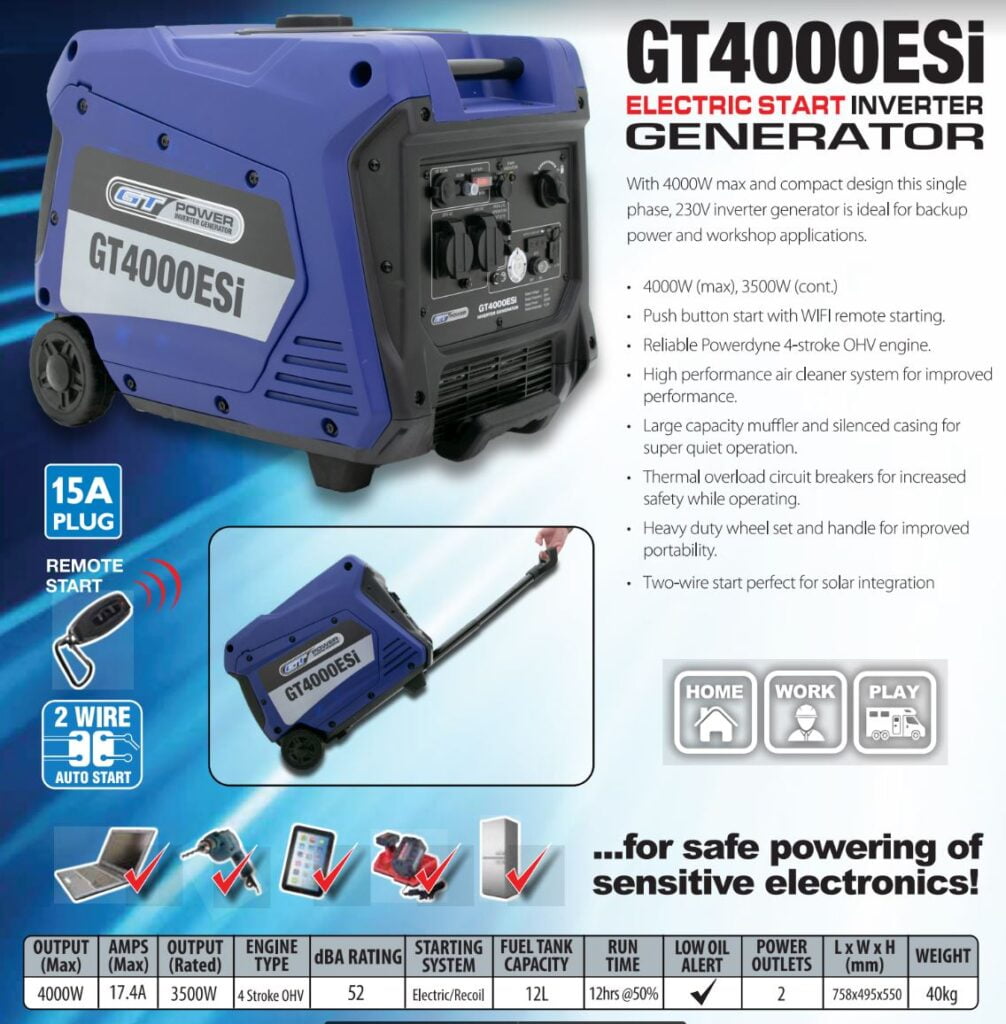 Call Full Power Electrical Today To Get A Backup Power Generator Installed
Call today for a free no-obligation quote