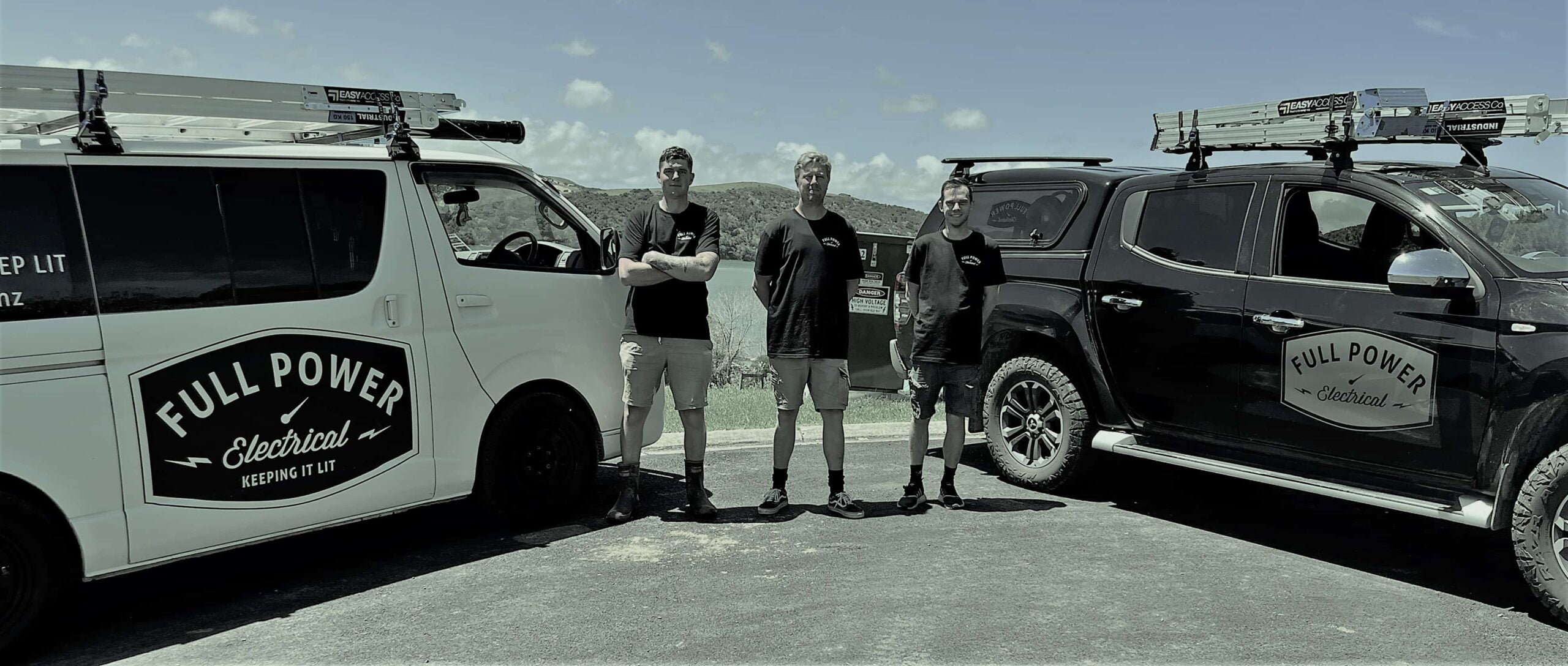 Full power electrical is a young fit team of electricians with the skill and know-how to get the job done right and on time.  
we have been in the game for over 20 years, we are dedicated to delivering high-quality electrical service to our clients.   
Our service area covers from the Auckland harbor bridge north to the Brynderwyn Ranges. 
We do most electrical services, our main ones are – underground power cable installation – heat pump installing and servicing  – residential electrical work –  industrial electrical work – switchboard replacement –  home ventilation installation – EV charger installations. 
Call today to get a free no-obligation quote or send us a message on the chat box and we will get back to you asap. 
You've got enough worries, let us take care of the lights.
call today for a full no obligation quote.
Full Power Electrical - electrical services company based in Warkworth
Full Power Electrical is a reputable electrical services company based in Warkworth, New Zealand. The company has been providing top-notch electrical services to residential and commercial clients for many years. With a team of highly skilled and experienced electricians, Full Power Electrical has built a strong reputation for delivering quality workmanship and exceptional customer service.
The company offers a wide range of electrical services, including installation, maintenance, and repairs of electrical systems in residential and commercial properties. Full Power Electrical also provides 24/7 emergency electrical services to ensure that their clients are never left in the dark.
One of the things that sets Full Power Electrical apart from other electrical services companies in Warkworth is their commitment to using the latest technology and techniques in their work. They invest heavily in training their team on the latest industry developments, ensuring that they can provide the most efficient and effective solutions for their clients.
In addition to their technical expertise, Full Power Electrical is known for their friendly and professional approach to customer service. They take the time to listen to their clients' needs and concerns, providing tailored solutions that meet their specific requirements. Whether you're looking to install a new lighting system in your home or need urgent repairs to your electrical system, Full Power Electrical is the go-to company in Warkworth.
Overall, Full Power Electrical is a reliable and reputable electrical services company that provides top-quality services to residential and commercial clients in Warkworth and surrounding areas. With their focus on customer satisfaction and technical expertise, they are the perfect choice for all your electrical needs.
Electricians you can trust for all your electrical needs.
We have the experience and the know-how to get the job done right. 
Do you Need Help With Electrical Maintenance?